Sea Turtle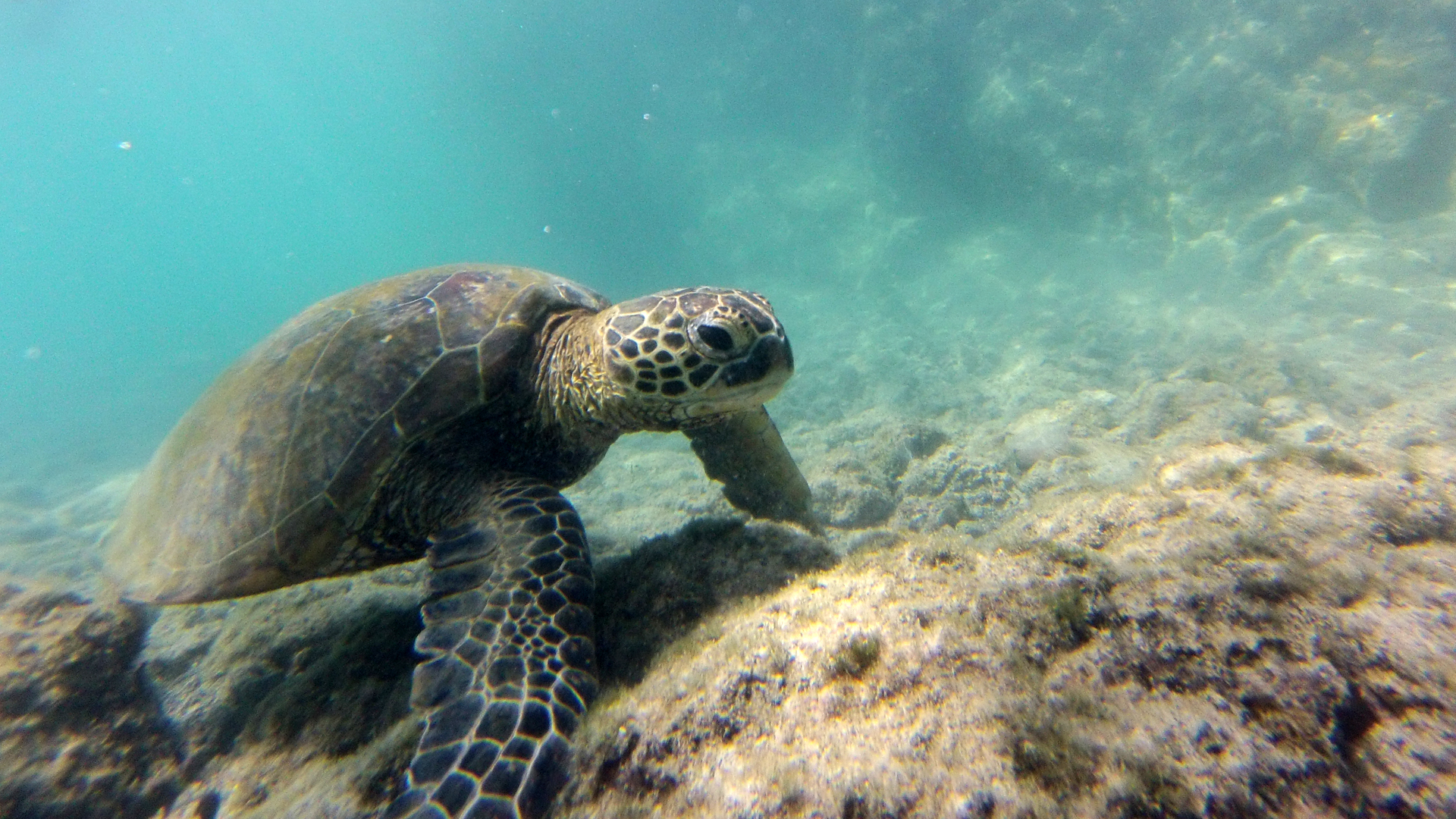 A sea turtle off the Big Island of Hawaiʻi © Tyler Bell. CC-BY-2.0.
Classification: Reptile
Groups can be encouraged to choose animals of different classes (reptiles, amphibians, mammals, etc.).
E-books and some videos are available free-of-charge for teachers via a one-time subscription at the Epic! website.
Consider using websites like SafeShare.TV and ViewPure to remove ads from websites.
Videos

See a Sea Turtle Devour a Jellyfish! (1:16)

A marine biologist captured footage of a sea turtle eating a stinging jellyfish. (YouTube)

Turtle Time! (7:15)

Scuba diver Sam takes students underwater, with links to additional videos. (YouTube)

Portal Texts

I'll Follow the Moon

by Stephanie Lisa Tara and Lee Edward Fodi

On Kiki's Reef

by Carol Malnor and Trina L. Hunner

Research Books

Baby Turtle's Tale

by Elle J. McGuinness and Romi Caron

Follow the Moon Home: A Tale of One Idea, Twenty Kids, and a Hundred Sea Turtles

by Philippe Cousteau and Deborah Hopkinson

One Tiny Turtle (Read and Wonder)

by Nicola Davies and Jane Chapman

Sea Turtle (A Day in the Life: Sea Animals)

Sea Turtles: Fun Facts About Turtles of the World

Sea Turtles (National Geographic Readers)

Sea Turtles (Our Amazing World)

Turtle, Turtle, Watch Out!

by April Pulley Sayre and Annie Patterson

E-books on GetEpic.com

From Egg to Sea Turtle (Start to Finish)

Sea Turtle Hatchlings (Water Babies)

Sea Turtles (Amazing Animals)

Sea Turtles (In the Deep Blue Sea)

Sea Turtles (Life Under the Sea)

Sea Turtles (Ocean Life Up Close)

Virtual Field Trips

Sea Turtle Inc. Virtual Field Trips

Offering a variety of programs focusing on sea turtles. Depending on the length of the program, cost varies (45 minutes, $120; and 30 minutes, $90) Topics include sea turtle rescue and rehabilitation, life cycle of a sea turtle, and more. Live field trips are also available on Padre Island, Texas. Look for the "Education" tab.

Skype a Scientist

Scientist: Katherine R. Martin

Schedule a skype session with Katherine R. Martin, who studies reptiles and amphibians.

Skype A Scientist matches over 2000+ scientists with classrooms around the world! Scientists skype into your classroom for 30–60-minute Q&A sessions that can cover the scientist's expertise or what it's like to be a scientist. Multiple topics are available.